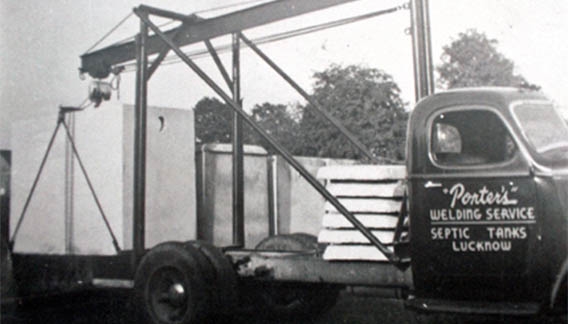 J. A. Porter Holdings is a family owned and operated business for over 50 years. We manufacture quality precast concrete products from their Lucknow facility and distributes them to a large part of western, central and northern Ontario through site locations in Lucknow, Owen Sound, Stratford, Manitoulin Island, and our sister plant Babcock Supply Ltd. in Dresden, Ontario.
In addition to the manufacturing and distribution of quality precast concrete products, J. A. Porter also has a huge inventory supply for your complete infrastructure needs. J. A. Porter is continuously expanding our product line with new designs, components, processes and services to maintain the highest level of quality and customer satisfaction. Approaching business from every side, we have gained a unique insight into servicing all of our customer needs. J. A. Porter Holdings is a member of the Concrete Precast Association of Ontario. We take great pride in the quality of our logisitics, diagnostic abilities and craftsmanship.
Like our customers, every project is unique and we evaluate the needs of each customer and project to achieve the best possible solution.
Contact Us

J. A. Porter Holdings

Lucknow Office
R.R.#1 (4 Washington Street)
Lucknow, Ontario N0G 2H0

Phone: (519) 528-3537
Fax: (519) 528-2025
Email: porter@hurontel.on.ca

Ready-Mix Department
Jeff Porter
Phone: (519) 528-3537

Owen Sound Office
R.R.#4 (317767 Hwy 6 and 10)
Owen Sound, Ontario N4K 5N6

Phone: (519) 372-1636
Fax: (519) 372-1882
Email: porter@hurontel.on.ca

Stratford Office
2944 Line 34, Ontario St.
Stratford, ON N5A 6S5

Phone: (519) 271-5554
Fax: (519) 271-5555
Email: porterstratford@hurontel.on.ca